STEEL BLUE 332101 HOBART BUMP CAP BOOT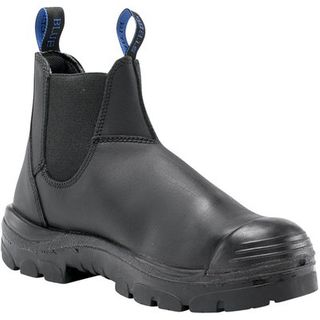 STEEL BLUE 332101 HOBART BUMP CAP BOOT
Description
- 145mm Ankle-height elastic-sided pull-on boot.
- A hardy, PU Bump that's directly moulded as part of the midsole.
- Convenient, easy access work boots with an elastic side.
- Steel Toe Cap Made from hardened steel for premium toe protection.
- TPU Outsole with heat resistance to 130°C. Slip & oil resistance
- A special tanning process treatment means all Steel Blue boots are water resistant.
- Wicks perspiration away from the foot, enabling the skin to remain cool and dry.
- Footbed is uniquely designed to reduce foot fatigue
- A full length anti-bacterial / anti-fungal punch woven covered insole.

STANDARDS:
- AS/NZS 2210 3
- EN ISO 20345, ASTM F2413
- SRC slip resistant
- Endorsed by Australian Physiotherapy Association.

- 30 day comfort guarantee
- NZ/UK Sizing
- A popular choice for Landscapers, Roof Tilers and Scaffolders.
Downloads
NZ SIZING