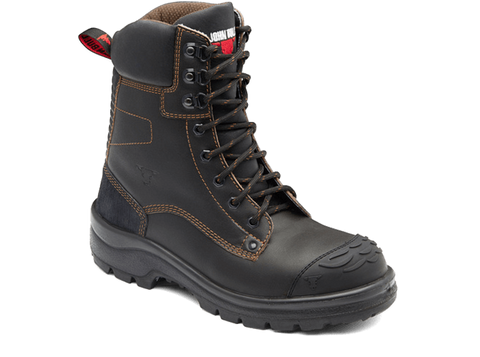 JOHN BULL 9495 KOKODA LACE UP BOOT
Description
- Claret Bullhide lace up high leg safety boot with penetration resistant insole.
- Provides optimum penetration resistance over the entire sole.
- Allows maximum flexibility and lightweight comfort.
- Dual density PUR midsole/nitrile rubber outsole. TPU heel guard.
- 5mm deep tread expels foreign materials and resists clogging.
- Broad fitting 200 Joule impact resistant Type 1 steel toe cap.
- Outsole increases cut and slip resistance and is resistant to
hydrolysis and microbial attack
- Excellent boots for heavy construction, infrastructure, landscapers,
farmers, forestry workers, and if you work in heavy industry or the
mining, oil and gas industries.


STANDARDS:
- Certified to AS/NZS 2210.3:2009.
- Classification 1 – ID2815.
- ASTM F2413-11 including electrical shock resistance (Clause 5.5)

- NZ/UK Sizing
- 6 month warranty, 30 day comfort guarantee.
Downloads
NZ SIZING
JOHN BULL 9495 KOKODA LACE UP BOOT